VARIVAS SuperTroutAdvance BAITFINESSE PEX4 100M
Brand: VARIVAS
Product Code: code-1831
Weight: 0.10
Specially designed PE for mountain stream bait finesse freak
■ Enhance
cast accuracy [X4] One of the attractions of mountain stream bait finesse, accurate cast like passing through a needle hole.
Braking (summing) is one of the important factors in that case.
Braking that is difficult with the X8 can be done at will by adopting [X4].

■ [X4] reduce line trouble in adopting
strong waist is X4, in the bait casting reel
and at the same time reducing the line trouble inherent,
also easy to return when a problem occurs.

■ Line color with high visibility
<with 50m intermediate marking>
Light green and light yellow are used to easily grasp the trajectory of the lure.

* By adopting non-fluorine coating processing (SP-V) that creates an environmentally friendly VARIVAS original water-repellent protective film, deterioration due to water absorption of the line is suppressed and durability is improved.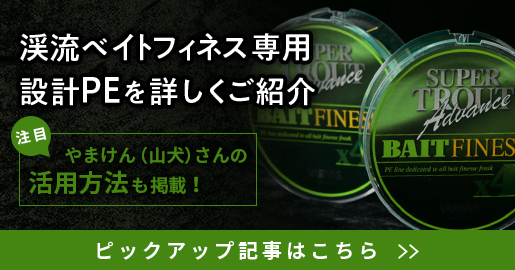 Color: Light green + Light yellow